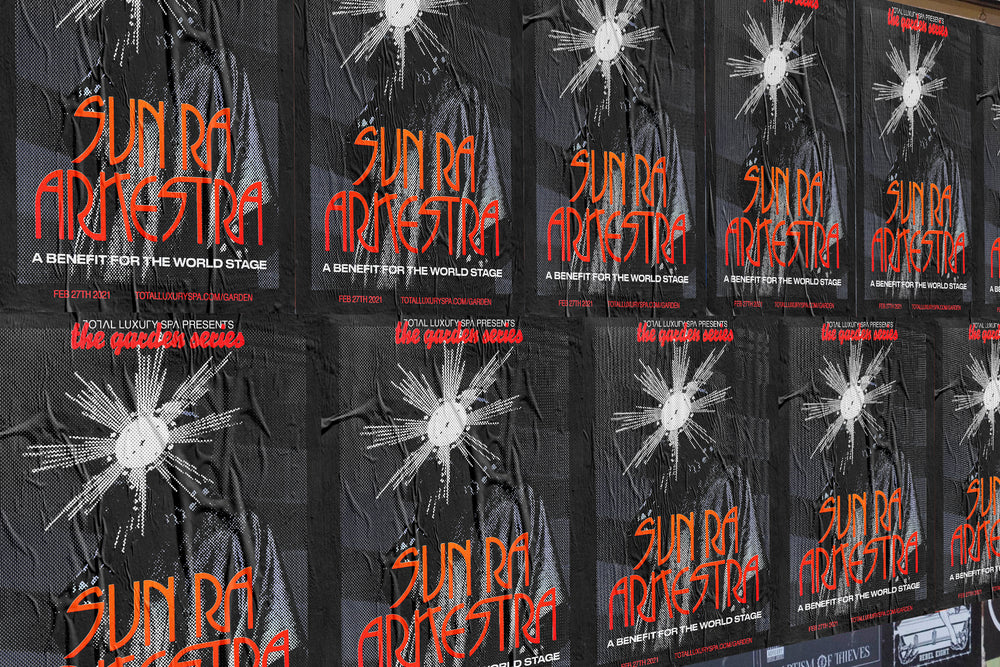 Sun Ra Arkestra
directed By Marshall Allen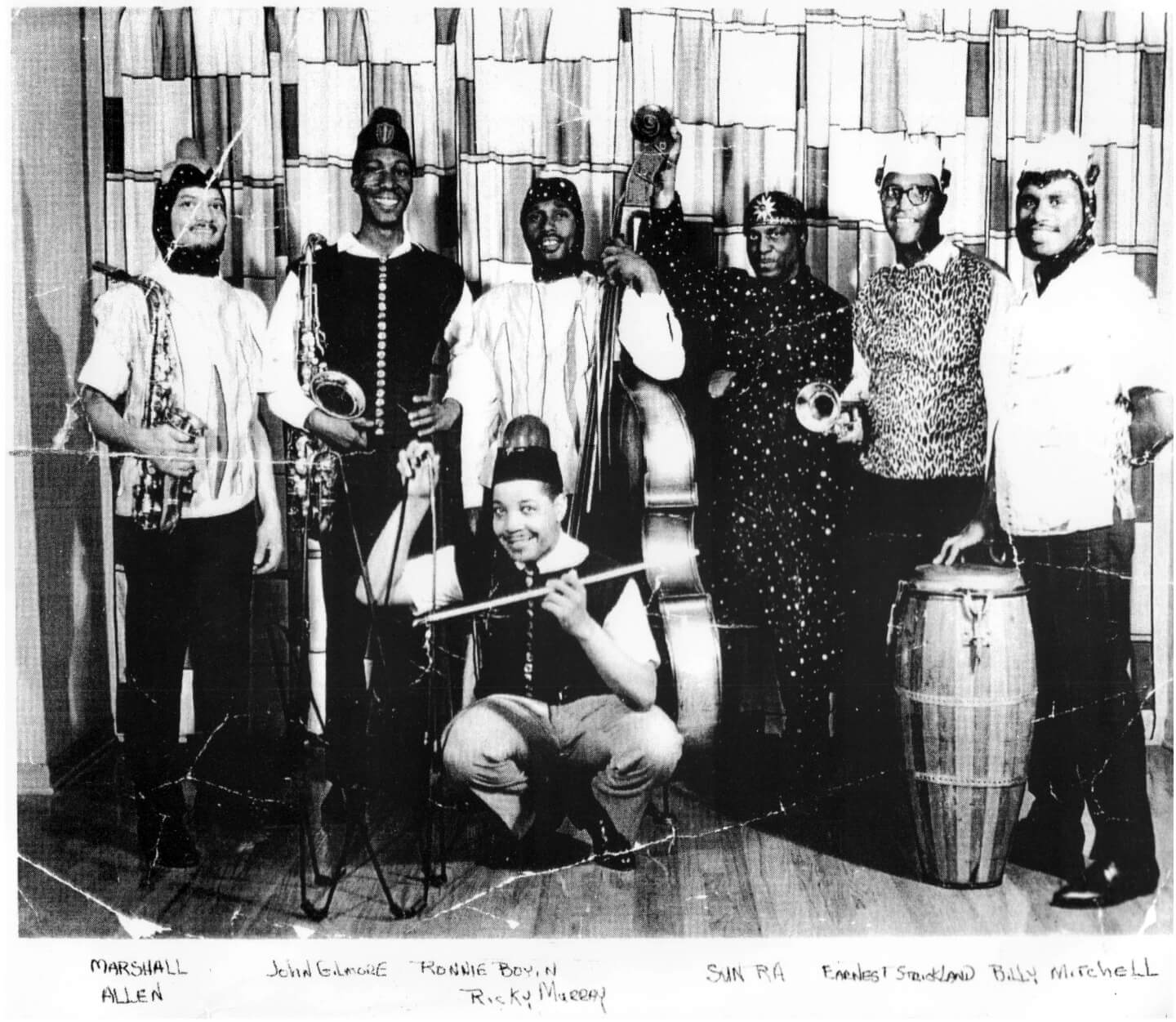 Sun Ra was one of the most unusual musicians in the history of jazz, moving from Fletcher Henderson swing to free jazz with ease, sometimes in the same song. Portraying himself as a product of outer space, he "traveled the spaceways" with a colorful troupe of musicians, using a multitude of percussion and unusual instrumentation, from tree drum to celeste.
Sun Ra, who enjoyed cloaking his origins and development in mystery, is known to have studied piano early on with Lula Randolph in Washington, DC. His first noted professional job was during 1946-47 as pianist with the Fletcher Henderson Orchestra at the Club DeLisa on the South Side of Chicago. In addition to playing piano in the band he also served as one of the staff arrangers. Finding his calling as an arranger, he put together a band to play his compositions. In the 1950s, he began issuing recordings of his unusual music on his Saturn label, becoming one of the first jazz musicians to record and sell his own albums.
Sun Ra's band became a central part of the early avant-garde jazz movement in Chicago, being one of the first jazz bands to employ electronic instruments (as early as 1956), including electric piano, clavioline, celeste, and synthesizers. In 1960, he moved his band to New York, where he established a communal home for his musicians, known as the Sun Palace. In March 1966, the band began one of its most significant residencies, playing every Monday night at Slug's nightclub on New York's Lower East Side.
By the 1970s, the Sun Ra Arkestra and its various permutations began touring Europe extensively. His performances had by then expanded to include singers, dancers, martial arts practitioners, film, and colorful homemade costumes, becoming a true multimedia attraction. Their performances would often stretch on for hours, including hypnotic, chanting processionals through the audience. Sun Ra's global following had become significant, though his recordings had become sporadic. His arrangements of his songs, however, were among the best in jazz. He made excellent use of his soloists, especially the great saxophone section: tenor John Gilmore, alto Marshall Allen, and baritone Pat Patrick, all of whom were with the Arkestra on and off for decades.
An outsider who linked the African-American experience with ancient Egyptian mythology and outer space, Sun Ra was years ahead of all other avant-garde musicians in his experimentation with sound and instruments, a pioneer in group improvisations and the use of electric instruments in jazz. Since Sun Ra's death, the Arkestra has continued to perform under the direction of Allen.
"Where human eyes have never seen, where human beings have never been, I build a world of abstract dreams, and I wait for you."
The World Stage
Leimert Park, South L.A.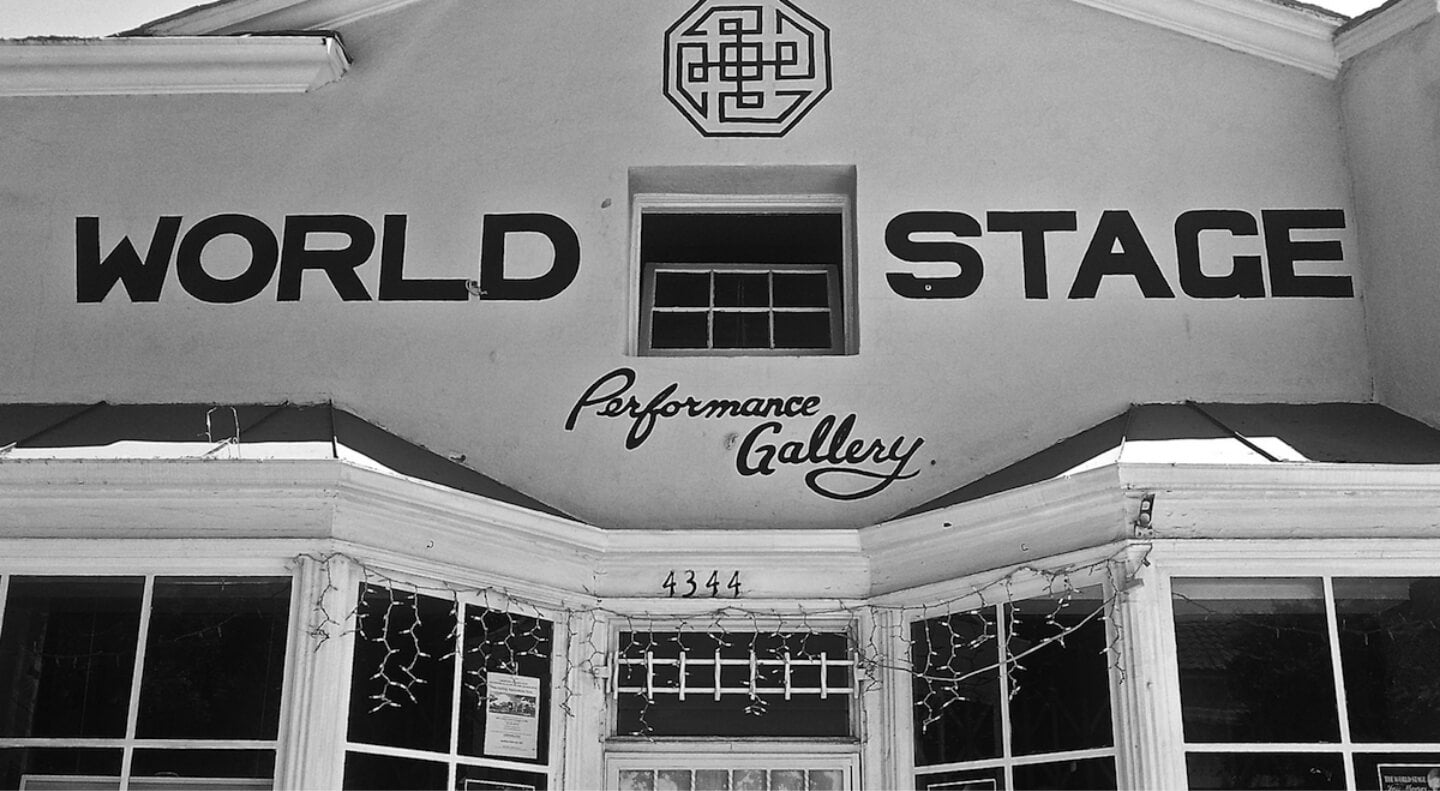 The World Stage was founded in 1989 by Jazz great and master drummer Billy Higgins, internationally known writer/poet Kamau Daáood and the late community activist/artist Horace Tapscott. A workshop environment where classic and emerging forms of creative expression are supported and presented, "The Stage", as it is affectionately called, is a collective vision born out of a desire to fill a creative cultural void in the Los Angeles community and provide a space for "genius homegrown artists and writers to jam and create." TWS has grown to assume a pioneering and pivotal role in the arts movement in Leimert Park Village hailed as the "Black Cultural Mecca" by the Los Angeles Times.
TWS has spawned the careers of noted international Jazz and Literary artists such as: Dwight Trible, Bennie Maupin, Patrice Rushen, and Michael Datcher, Ph.D., also Kamasi Washington, Terrace Martin and Patrice Quinn. TWS has a long-standing artistic history, which has evolved administratively under more than four executive directors over a 30 year period. The organization is staffed by volunteers and artistic professionals who provide their time pro-bono. With a limited budget, TWS provides more than 300 workshops annually.
Organization program and services include Monday's Drum Workshop for children of all ages, Tuesday's Jazz Vocal Workshop and Jazz Vocal Jam, Wednesday's Anansi Writer's Workshop, Thursday's Women's African Drum Circle and Jazz Jam Session, Saturday's Jazz Workshop, and Sunday's Woodwind Workshop, Roots First Global History of Rhythm Class, and Sisters of Jazz Jam Session.
Performances at The World Stage generally occur on Friday and Saturday evenings. The World Stage fosters exchange and interaction between artists of all ages and levels, and provides a place for self-discovery, experimentation and critical feedback in a nourishing environment. on a little music. The focus is Jazz instrumental and vocal performance, literature composition/spoken word, Cuban, Brazilian, African percussion, and a Women's African Drumming Circle.
TWS is designed to support Leimert Park, West Adams, Crenshaw, Baldwin Hills and nearby South Central Los Angeles community members (ages 10-80+ years old). They develop and express their own artistic abilities with emerging artists, established Jazz and literary professionals. TWS workshops are longstanding and have a reputation for encouraging artistic expression in a sacred space. The inter-generational participants and artists perform in front of a live audience and pass knowledge and artistic excellent to the community. The performance art gallery has been located in historic Leimert Park, the Los Angeles' African American cultural community, for 30 years.
FOR OVER THIRTY YEARS, THE WORLD STAGE HAS BEEN A THRIVING PERFORMANCE AND EDUCATIONAL SPACE AND ASSET TO THE COMMUNITY. YOUR DONATION WILL SUPPORT OPERATIONS, IMPROVE THE FACILITY, AND ENHANCE THE PROGRAMS.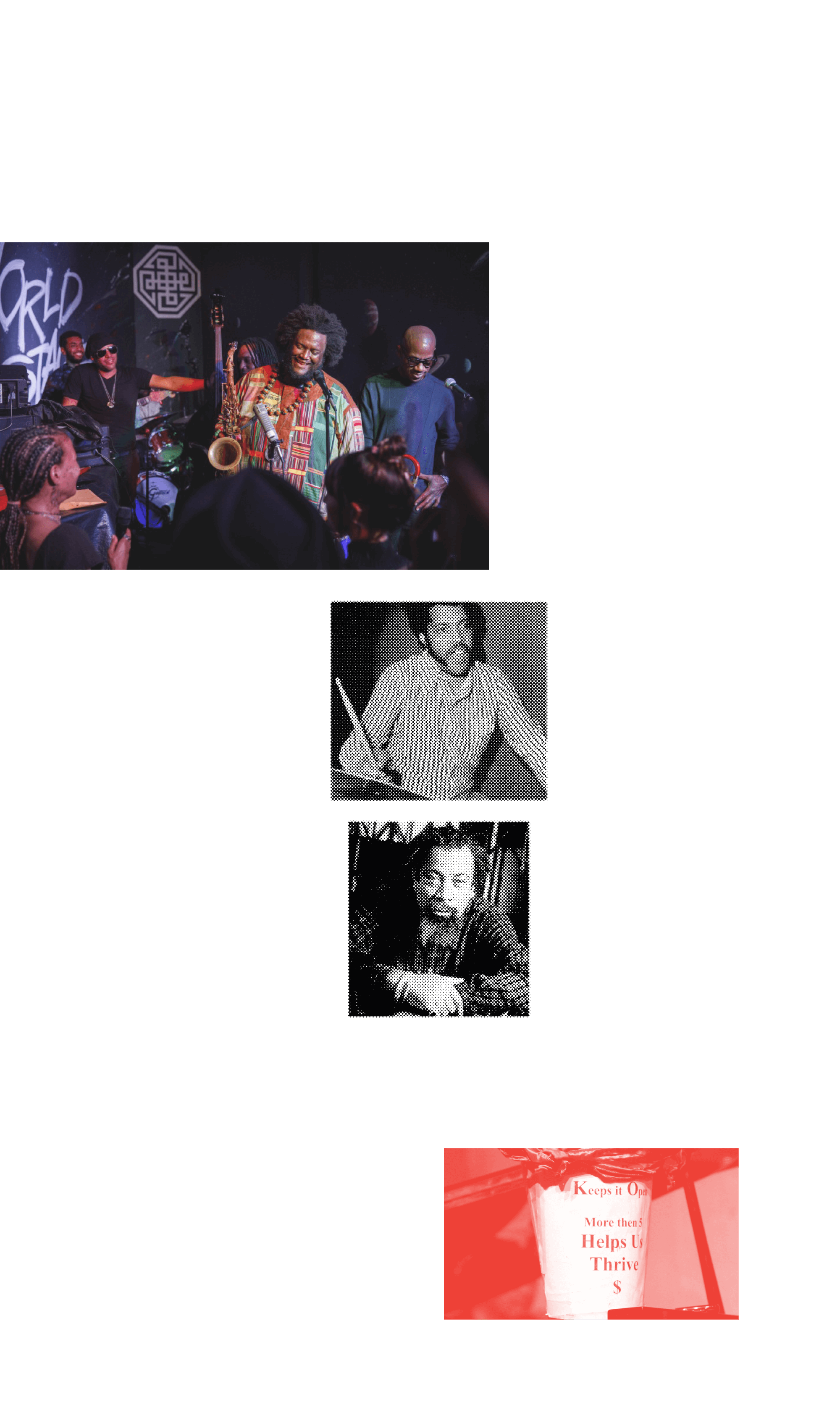 Billy Higgins
Kamau Daaood
Horace Tapscott